The Rural Africa Children's Education Trust (RACET) is dedicated to helping children in rural communities in and around Ntrigom, Cross River State, Nigeria to attend the Community Secondary School through financial assistance for  essential items such as uniforms, books, study materials and school fees. We are non-denominational and accept children from all faiths into our programme. We make it a priority to ensure that girls are given the same opportunities as boys and therefore have equal numbers of boys and girls in our programme.
As well as sponsoring six children in each of the six year groups, we have also initiated a scholarship programme whereby RACET pays the school fees of the highest achieving child in each year group. This has proved to be a very successful incentive for our pupils to work hard and take full advantage of the education on offer.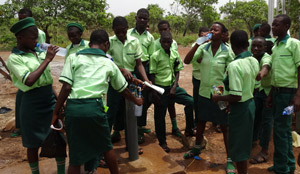 Because many of the children at the Community Secondary School come from remote villages without access to electricity or clean drinking water, RACET installed a borehole providing clean water at the school so that pupils and staff alike can now drink water during the hot days.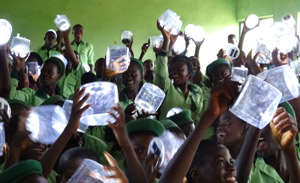 RACET has also found a way to enable students to do their homework at night in areas without electricity. Since 2015 we have provided more than 400 Luci® Solar Lanterns to all the students and staff at the school. These inflatable lanterns have become treasured possessions for being so practical and safe, as opposed to the traditional kerosene lamps otherwise used.